The master moderniser
Bernard Jenkin talks to Edward Davie
The House Magazine, January 17th 2005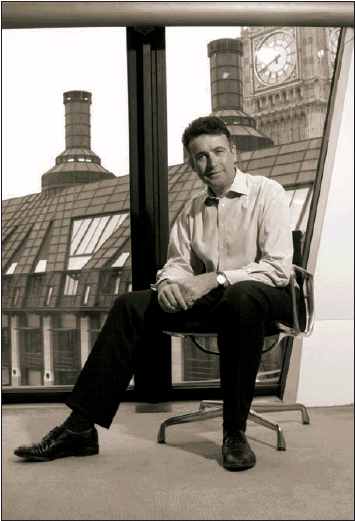 I come from a very musical family. My father was very musical at school; he played the piano, the first violin in the school orchestra and sang in choirs. My mother taught the violin and spent hours helping us practise. My older brother became an accomplished cellist, my older sister has become a well-established professional singer and my younger sister sings with an opera company in Germany.
Music, particularly singing, was my thing at school, first at Highgate School and later at William Ellis, a grammar school also in North London, where I was brought up. My teachers for singing and piano were a great influence on me. I am a founder member of the Parliamentary Choir and still take the odd singing lesson before any solo work, which is good for public speaking.
I got into Cambridge on a choral exhibition and intended to become a professional singer, but I was always interested in politics and at Cambridge it really got hold of me. I finished up as president of the union. By the end of my first year I decided I wasnít single-minded enough for music and strange as it may seem, I found the musical world too competitive.
My father, the MP Patrick Jenkin, has naturally been a great influence on my life and my politics, though he never put me under any pressure to follow in his footsteps. When I left Cambridge, I thought ďLetís see if I can make a go of it in businessĒ and I really made the effort to drop politics to see if business would be my vocation. I spent 10 years in business Ė four years with Ford and six years in the venture capital industry.
Politicians are better for experience in the real world and business is a very real world. But within three years of joining Ford, I found myself not only on the parish council where I was living, but then chairman of the council. By that time, I was also getting involved in the Westminster village and, to a certain degree, in the Bow Group, and thinking about how I might become an MP.
Thatís when I met my wife, Anne, who can be a harsh critic but is a great supporter. Though another five years in business would have done me no harm whatsoever, I was lucky to be elected in North Essex at the tender age of 33 in 1992. Itís wonderful to represent such a variety of small towns and villages and I love that part of my job.
I first met Iain Duncan Smith before we became MPs. He came to a ďgetting to know youĒ dinner at my home in 1990 with a group of other Conservative candidates. Iain was by far the most outspoken of the group and went on and on about how we shouldnít be in the exchange rate mechanism.
When we were elected, a group of the new intake decided there were really big issues that needed to be dealt with. What brought me and Iain together was the 1992-97 parliament and the European issue Ė to try and raise awareness amongst Conservative MPs about the implications of the road we were going down on Europe.
During the Hague years, Iain and I were both in the shadow cabinet, and after the 2001 general election I was quite surprised to find myself organising his leadership campaign. The two years of Iainís leadership were both a triumph and of course a disaster. The triumph was to broaden the confidence of the party on social issues and to take the party down a track which began to define a proper European policy. The disaster of it was that Iain never won the loyalty of Conservative MPs.
I do tend to feel things emotionally and personally, and it was a painful period. I feel an admiration for Iainís strength of character that he came through that and also sympathy for what he had to put up with. The party has now moved on, and I do think Michael Howard is leading the party with more authority than any leader since Margaret Thatcher, with his seniority and experience.
Despite having big differences with John Major over Europe, I have great sympathy for his invocation of a kinder, gentler, more tolerant nation and I think thatís what this country wants to be, and where most people are.
I was one of very few Conservatives who first voted for the equalisation for the homosexual age of consent to 16. Many who now vaunt homosexual equality as an icon of modern Conservatism were voting for 18 and 21 when yours truly was pioneering the social and liberal agenda. I take a pride in that.
I think the two years I spent as shadow defence secretary is what Iím most proud of in my time in politics. I felt like a boy in a grown manís boots to start with. It was extremely testing, putting the Conservative defence case in the House of Commons in the period after 11 September 2001.
Iím proud of what I achieved. We put the Conservative Party in a consistent lead over Labour on defence and I left in place a great defence team with a sound basis of policy, particularly on Nato and EU defence. When Michael Howard took over, it was natural he wanted to bring in his own people and heís brought in some very able and capable people. Iíve been able to take stock of my 12 years in parliament and to broaden my political interests.
Iíve been setting out a new direction, promoting real decentralisation the regions to restore the role of the shires and cities in England in place of John Prescottís programme to have elected regional assemblies. North East Says No deserves credit for winning the referendum campaign but the Conservative Partyís role was vital.
I had never considered myself a political ďoperatorĒ but there was a great deal of behind-the-scenes campaigning and fixing to be done and I enjoyed developing that new skill. Off duty, I like spending time with my wife at home. I like chopping logs, going for a run or mowing the lawn and Iíve got a workshop and some tools. I unwind listening to classical music and sailing. I should sing more often Ė itís very uplifting.
We have two sons aged 15 and 13, definitely an interesting and stimulating age, and they enjoy sailing and fishing with with me and they keep me on my toes.